Finding a game to buy to give it to a loved one can sometimes be a real headache, especially with the release of new consoles and if you know very little about this universe.
In order to help you sort it out, here we offer you a buying guide where we select the 9 best PS5 games released this year not to be missed on PlayStation 4. Note that some of them are not exclusive to the console, and that all of these games also work on PS5. This list is obviously not exhaustive, but it covers many genres to find the perfect gift for all types of gamers.
Table of Contents
What are the 9 best PS4 and PS5 games?
The best PS4 / PS5 games exclusives released this year are as follows;
1. The Last of Us Part II
How not to mention the title that marked the year of the PS4 to start this guide. Long-awaited sequel to the first The Last of Us released in 2013, The Last of Us Part II tells us what became of Ellie and Joel several years after their first adventure. The game has a very strong scriptwriting dimension, with a poignant staging, a brutal universe and memorable characters.
Of course, the title is not to be put in everyone's hands. Violence is very present there, not to mention the post-apocalyptic aspect with infected people who create a scary atmosphere. However, it will undoubtedly please those who loved the first adventure, or those who wish to live a strong experience with an almost cinematic narration, thanks to striking sequences and a memorable acting.
It is therefore recommended to all players who like action / adventure PS5 games, with a storyline at the heart of the game, and to those who like the post-apocalyptic atmosphere of a world ravaged by a virus.
2. Ghost of Tsushima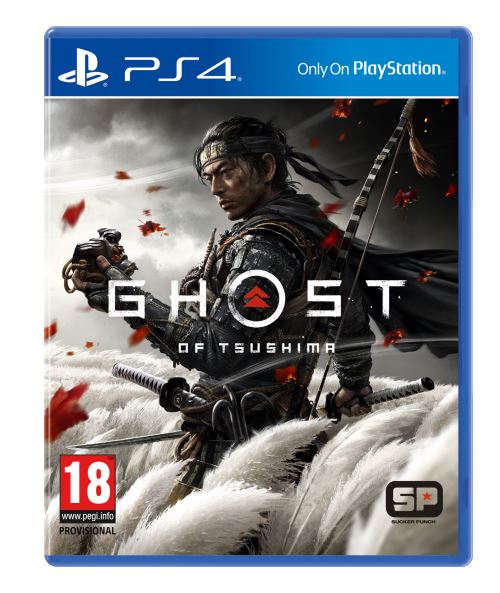 The other exclusive that has been very successful in 2020 at Sony is Ghost of Tsushima. We play a samurai in search of revenge, ready to face the Mongol army which invaded the island of Tsushima. The title then proposes to discover a gigantic open world with many additional objectives to accomplish.
Exploration is therefore at the heart of the experience, as is the fighting, which is worthy of the greatest samurai films. The character can therefore face his opponents in a duel or have recourse to discretion to sneak into enemy camps and sow the dead silently. The title particularly impressed with its graphic quality and its open world very pleasant to explore.
To recommend to lovers of the open world, like those looking for an action / adventure game with a different, almost exotic atmosphere, not to mention all those who adore the history of Japan and the samurai.
3. Persona 5 Royal
We stay in Japanese culture but this time more contemporary with Persona 5 Royal , a Japanese role-playing game that puts us in the shoes of high school students capable of stealing people's hearts in order to punish criminals. This is an improved version of Persona 5 , released in 2017.
This version adds in addition to that new stories to discover, while improving the original narrative. The gameplay has also undergone some changes with spectacular attacks to be performed in pairs. Even having already completed the original Persona 5, this Royal version is a pleasure to browse, especially thanks to its localization in French.
The title should delight all role-playing game enthusiasts and those who adore Japanese culture, as well as those who want a game that offers a lot of content, because this version offers more than a hundred hours of play.
4. Final Fantasy VII Remake
If we stay in the Japanese games exclusive to the console, Final Fantasy VII Remake also made a lot of noise this year. This is a remake of the role-playing game released in 1997 for PlayStation 1, which was the first Final Fantasy to land here and which was very successful.
This remake changes almost everything, however. Gone are the small 3D characters of the time, make way for much more contemporary models, served by a very impressive staging and spectacular fights. The game was also praised for its memorable music and very enjoyable action sequences to play with the controller in hand.
Gamers of the time are bound to be intrigued by this remake, as will people looking for an action game, with some role-playing elements.
5. Doom Eternal
Following the reboot released in 2016, Doom Eternal uses the same elements to offer an even more successful experience. Even more violent, even faster, even more pleasant to handle, the title never disappoints.
This episode has first of all the particularity of being a little longer than its predecessor, but also to be better balanced, with a correctness in its gameplay simply admirable. The clashes are nervous, the sets are impressive and the general feeling is unique.
Obviously, we will only recommend it to those of the required age to play it, as well as those who are not afraid of seeing a lot of blood and monsters on the screen. It remains the best shooter released this year, and while it is primarily geared towards single-player play, it should provide some good times for anyone who enjoys the genre.
6. Assassin's Creed Valhalla
Once again, Assassin's Creed returns with a new episode, which visits another historical period. This time, it's a rendezvous with the Vikings, as they try to invade England.
This episode therefore has the particularity of placing us in the shoes of these barbarians from the north, with once again a lot of customization elements, such as multiple choices during the dialogues, skills to unlock or armor and mythical weapons to find, all in a large open world. The strength of the title therefore lies in its universe, and does not especially require having played other episodes to understand what is happening there, except for a few script elements which are not of the greatest importance.
A successful episode, which will appeal to those looking for a large open world to discover like Ghost of Tsushima, but with another historical period as a game setting.
7. Sackboy: A Big Adventure
Family games are rather rare on PS4, compared to the Nintendo Switch. Sackboy: A Little Big Adventure fills this gap a little with a colorful adventure to discover, which in addition to that is playable with several people.
We follow the little Sackboy, mascot of the Little Big Planet series, who will be at the heart of a 3D platform game like a Mario. The game then offers a very cute adventure, which can be carried out in cooperation to play with the youngest, enough to offer good moments of sharing.
A game that we therefore recommend to the youngest, to those who want to play with their friends or family without worrying.
8. Immortals Fenyx Rising
Ubisoft is launching a whole new license with Immortals Fenyx Rising , which offers an adventure within Greek mythology, with the presence of the gods of Olympus and the mythical creatures of these legends, all in a rather humorous tone, almost cartoon.
If the title does not always manage to convince when it connects the jokes, it seduces by the diversity of its open world, which offers several pleasant environments to navigate and many challenges to accomplish. He revisits Greek mythology with lightness, while offering puzzles accessible to all.
With its quirky tone and easy-to-understand mechanics, it will undoubtedly appeal to young players who want a fun and refreshing adventure, without too much violence and without having too much to do in the game.
9. Marvel's Spider-Man: Miles Morales
If the person you want to gift a game to is a fan of superheroes, the perfect gift this year is Marvel's Spider-Man: Miles Morales.
Admittedly, a Marvel's Avengers game is available, but it is far from being as qualitative as this adventure, which puts us in the shoes of Miles Morales, a young inhabitant of Brooklyn that Peter Parker takes under his wing following the appearance of powers similar to those of the Spider-Man.
The title is sort of a spin-off from Marvel's Spider-Man, released two years earlier, and uses more or less the same mechanics with a new story. Miles is a very endearing character to follow and, on top of that, he has new powers, such as that of wielding electricity, or of disappearing for a few seconds.
Obviously, we recommend the title to all those who adore Spider-Man, especially those who have seen the animated film Spider-Man: New Generation . Note that the title also has an improved version on PS5.
The PS5 games not to be missed
Few gamers have managed to get their hands on a PS5 this year-end, but if you're looking to deliver a game that will show off the full power of the console, Demon's Souls Remake is the perfect candidate for it.
Be careful, however, the title is not for everyone. It is known to be very demanding, and will not suit all profiles of players, especially those who do not like PS5 games that are too difficult. It takes patience to master what this remake has to offer, but the more adventurous are more than rewarded.
There is no doubt, Demon's Souls Remake is a real graphic slap, in addition to bringing up to date the first born of the Souls family . Its bewitching atmosphere is here coupled with visuals to die for, which show that the PS5 has it in the belly. And that's not to mention its precise and complete gameplay, which makes us want to go back even by chaining the failures. A real exclusive to do, but that we recommend only to players who like big challenges. also Read: Ten expected new games in 2021